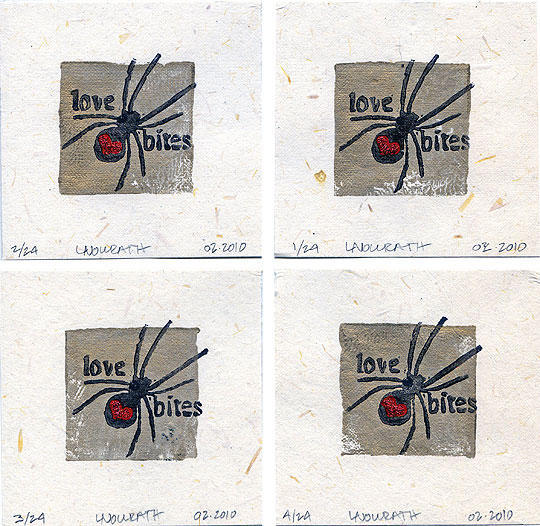 I've been trying to get in on the Fine Art Valentines project for quite a few years, but somehow, I've either missed the sign-ups or had a conflict with the due date. I finally managed to make it work this year, and since the due date to have pieces in the host's hands is February 25th, this week was all about getting my pieces done and ready to ship.
This is the 7th year of FAV, and the rules are pretty simple: make 20 numbered prints of 2×2 inch artwork on 4×4 inch paper; include a heart in your desgin; use some form of printing technique, and at least one color that is not black or white.
I actually sort of dislike Valentine's Day, so much of my work for the holiday tends to be on the dark side—and, looking over some of the pieces submitted for this project in previous years, I'm not alone. That's good, because I just hate being the lone cynical voice in a sea of happy pink hearts. I settled on a spider design pretty early, and played with different ways of integrating the heart before I settled on a black-widowesque design. I did an earlier version of this on my computer that was just WAY to detailed for a tiny piece of artwork, but probably good for something computer generated. After printing it out and realizing there was no way I could carve stamps that intricate, I simplified, and came up with the Love Bites design shown in these four prints.
I love carving stamps. It's sort of an excercise in imprecision, which is a good thing for me. I do way too much perfectly measured artwork on my computer. A little handmade imperfection is what gives hand-carved stamps their character, and even with slow work and a steady hand, the stamp will never look like what comes out of my laser printer. I have to decide how much imperfection is acceptable, and it's often a fine line between a finished stamp that has character, and one that should be thrown away.
So, there you have it. My nicely imperfect prints for FAV #7, done in three layers: a big titanium gold square, a black spider and lettering, and a red heart that's been tarted up with a little glitter glue. I did 24 of them—20 for the project, and four that will be auctioned off this year to help raise a little money for A Place to Bark.