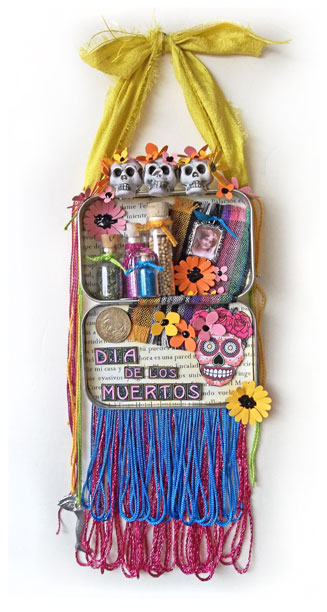 This week's artwork: one of three Day of the Dead Altoids tin shrines I made for Kickstarter backer rewards. I decided to do three relatively identical shrines, to get them finished quickly. I'm running out of work time for getting all the reward items finished.
The reason I'm running out of time is a good one: despite a major flake-out on deadline day, resulting in a last minute scramble to fill pages, the 'zine went to print on schedule. I checked this morning, and 40 issues are in production today. They're tentatively scheduled to land here September 10th. I received the proof copy earlier this week, and I'm pretty pleased with it.
So. Onward. On my white board, to finish in the next week or so are three digital matchbox shrine kits, a tin can shrine kit, a Day of the Dead portrait class, three collage sheets, and some Etsy listings—all results of the 'zine. I have a tidal wave of stuff to release when those backer packages go into the mail.
I also started a little altered book shrine project, that I'm working on in the evenings, while I'm watching DVDs. I'm not really sure what I'm doing yet, just that it's more sculptural than my usual pieces.
I sort of feel a little art mojo returning. And that's a good thing.